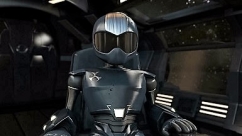 Lvl 150 Terran
Prestige Lvl 173
1,300,547 to level
Last activity - 2 week(s) ago
The Box GHOST

of HOWL
Attack
12,407
Defence
7,839
HP
37,976
Speed
250,500
Accuracy
93.40%
Block
7.50%
Crit Strike
7.50%
Crit Resist
7.50%
Income/hr
26,095 Cr
Turns/hr
882
Exp/hr
244
Retired from the game... But still helps around when on.
Experience

335,682,123

Growth Today

1,252

Link Clicks Today

1

Followers

3

Commander Cyberkilla
Description
- Decided to returned to game starting November 11th 2017.
-- Basically retired from the game again... Just logging in and off every now and again. Waiting for updates...
Active Skill Effects
Name
Level
Expires
CyberGhost has no active skills :(
All Statistics
Level

150

Experience

335,682,123

Guild HOWL
Guild Rank

The Box GHOST

Commander Cyberkilla
Followers 3
Offensive

2,597,410

Defensive

1,059

Raiding

30,549

Bounties

62,156

MF Level

301

Link Clicks

135,966