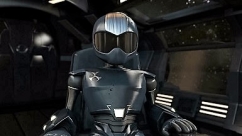 Lvl 323 Terran
459,833

/

3,120,190
2,660,357 to level
Last activity - 2 day(s) ago
The Box GHOST

of HOWL
Experience: 334,322,313
Growth Today: 2,739
Link Clicks Today: 2
Followers: 5
Commander: Cyberkilla
Attack
52,002
Defence
36,121
HP
160,720
Speed
1,068,790
Accuracy
93.40%
Block
7.50%
Crit Strike
7.50%
Crit Resist
7.50%
Income/hr
43,395 Cr
Turns/hr
882
Exp/hr
244
Retired from the game... But still helps around when on.
Experience

334,322,313

Growth Today

2,739

Link Clicks Today

2

Followers

5

Commander Cyberkilla
Description
- Decided to returned to game starting November 11th 2017.
-- Basically retired from the game again... Just logging in and off every now and again. Waiting for updates...
All Statistics
Level

323

Experience

334,322,313

Guild HOWL
Guild Rank

The Box GHOST

Commander Cyberkilla
Followers

5

Offensive

2,596,349

Defensive

985

Raiding

30,541

Bounties

62,124

MF Level

301

Link Clicks

135,615