Concurrent/parallel raiding support
Admin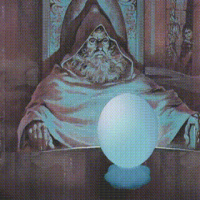 Total Posts:
5,961
Online Status:
Offline
Mon Jul 12 9:58:54 EDT 2021
Hello, I've just about implemented support for joining multiple raids. There are a couple of rough edges that I'm not entirely happy with, but I'm sure we can figure them out.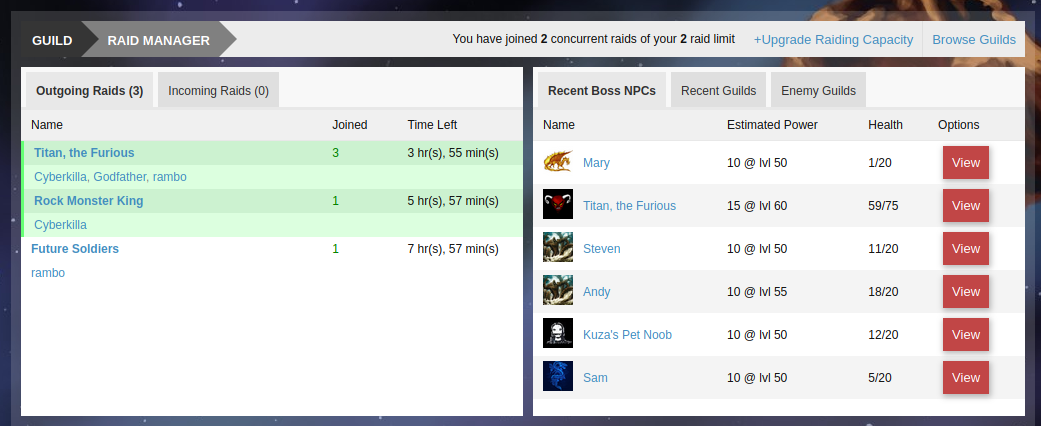 Currently:
Every player has their own maximum concurrent raids they can join. You start at 1.


You'll be able to upgrade it via the Upgrade Centre, though I haven't enabled this just yet.

Joining a raid costs 20 turns for now. It should have always cost turns, not sure why it was omitted.


The actual cost is subject to change though, and perhaps guild upgrades can reduce it.

Leaving a raid is free, but there's no refund. Again open to feedback on all of this.
Forming a raid costs turns, as always, but the amount scales with the chosen time limit.


These costs are definitely subject to change. At the moment, they're too low at one end, and too high at the other
I'm very interested to get some feedback on the following points:
What time limits should we allow to Boss NPC and Guild raids? (note that they are different)
What sort of turn cost range is fair for:


Joining a raid (bear in mind we'll need to have room to reduce it with Upgrade Centre)
Starting a raid (see above)

Should we have a minimum time before manual start? (could be reduced via Upgrade Centre, and would be reduced in proportion to the number of guild members that join the raid. i.e., the more raiders, the faster you can raid. I believe this has been suggested a couple of times now by various people that feel like they're missing raids because people don't wait).
This one will be misconstrued, but many games have a daily cap on raids. It may be worth us adding one that can be upgraded via Upgrade Centre. I'd have to see what sort of numbers people are doing atm, as I obviously don't want to limit the upper bound, just make it something we have to unlock.
Does it make sense that I have max_concurrent_raids per player?


On one hand, makes players more sought after if they have high concurrent raids cap
On the other hand, feels like a guild upgrade. Let me know your thoughts.

What is the maximum concurrent raids a player should be able to join?
What is the maximum concurrent raids the guild itself should permit?


Currently, some guilds tend to form a tonne of raids and hope the members will get through them before they auto-start. Maybe it should require Upgrade Centre upgrades to become viable. Seems like an advanced technique rather than something a brand new guild should be capable of. Locking things behind upgrades might seem annoying, but it gives new people something to work towards.
We're also going to have Guild Levels that player growth contributes to. Probably irrelevant to the raiding mechanic, but if it ties in, great.
Invisible War ][
Edited 5 time(s). Last edited by
Cyberkilla
@ Mon Jul 12 11:00:35 EDT 2021